An AI-powered, algorithmic-driven platform connecting diverse founders and investors.

Hi there,
Last month we announced the launch of our Scroobious Ambassador Program. We've been receiving applications from incredible people across the nation, and we're thrilled to welcome our inaugural round of City Leads!
Scroobious is a scalable tech platform, but we appreciate that startups are rooted in regional communities. Local service providers like law firms, banks, accelerators, universities, accountants, consultants, and more support founders by contributing Scroobious memberships to improve their fundraising chances and, through our partnership, serve as trusted professionals.
Our City Leads are key figures in their local startup ecosystems helping us reach new providers and connecting them with our community of 600+ diverse entrepreneurs. If you live in one of their cities, please reach out and say hello! If you're interested in becoming a City Lead, click here for more information.
Chukwudi Kanu, Email | Betsy Clementson, Email | Luciano Oviedo, Email | Brianna Brazle, Email | Kelly Cooke, Email
It's not always easy to tie your work directly to a social mission outcome. In our case, it happens often and it's visceral. Our team, our City Leads, our sponsoring service providers, our partners, and our platform users can literally see and feel the impact of their work. You feel it in your heart and your gut when you read a note like the one from a founder below. On the other side of this note is an investor who discovered an incredible founder and put their money to work by funding her. 
Read on for some great upcoming events and opportunities, the Morse Minute, and don't miss our featured founder at the end! Thank you for reading this. Thank you for helping us. I appreciate you. 
Allison Byers, Founder & CEO
Click on an update to learn more and access content.
| | |
| --- | --- |
| Event: 10/5, 4:30 - 7:30 PM ET. Join me, The Entrepreneur Forum, investors, and founders at Venture Cafe for a night of discussions with startup ecosystem leaders, a reverse pitch from funding groups, and a candid conversation about interacting with investors. | |
| | |
| --- | --- |
| | Virtual Crap Free Convo: All Things Techstars, 10/24, 2-3 PM ET Join us for a founder panel on all things Techstars. Hear about our member experiences in the accelerator ranging from applying, to working with regional leads and mentors, to connecting with cohort peers, to after demo day, and more. As will all our Crap Free Convos, you get to ask your questions and get the real scoop. |
| | |
| --- | --- |
| Articles. California Senate Bill 54, which I have been working on with a stellar team, is gaining more visibility! This first legislation aimed at increasing diversity in venture capital has passed the CA House and Senate and is waiting for Governor Newsom to sign it into law.  | |
| | |
| --- | --- |
| | Article: I'm proud to be highlighted as one of the two women out of 11 angel investors in this Insider article. There are 4M+ angels and a recent study found that 40% of us are women (University of New Hampshire). We need to be vocal about our investment activity to normalize the public perception of reality and to inspire other emerging angels. Thanks to Ayomi Samaraweera, the awesome founder of Canopy, for recommending me! |
| | |
| --- | --- |
| Application due 10/20: Halcyon. Halcyon accelerates impact-driven entrepreneurs building Climate, Health and EquityTech solutions. | |
| | |
| --- | --- |
| | Applications due 10/27: 4HERPOWER Challenge. UNFPA, Organon, and MIT Solve are looking for companies created by and for young people, prioritizing adolescent girls and young women, that address key challenges within sexual and reproductive health and rights. |
| | |
| --- | --- |
| Applications due 11/17: AD Stretch Accelerator. Avery Dennison's non-dilutive startup accelerator that concentrates on Customer engagement, Sustainability and Materials Innovation is accepting applications for it's 3rd cohort. | |
| | |
| --- | --- |
| | NEMIC Health's EMPOWER Program for Health & Wellness: Calling all Rhode Island Minority Business Enterprise (MBE) and Women Business Enterprise (WBE) entrepreneurs in Health and Wellness! EMPOWER is a tailored initiative with networking, workshops, technical assistance, and up to $100K for 5 participants. Learn more: https://nemic.org/empower |
Morse supports diverse founders through their Scroobious corporate sponsorship and their legal professionals create exclusive content for our community to help entrepreneurs.
This month Paige Zacharakis outlines ten things to keep in mind after being served with a complaint. Being served with any formal paperwork can be nerve-wracking and once you've been served the clock starts ticking to respond. Some key points are below, and Click here for the full article.
Do not ignore the complaint. You usually have 14-21 days to respond before you potentially forever waive your defenses.
Contact your insurance provider to see what lawsuit coverage you have.
Don't talk to anyone besides your attorney or those within the company on a "need to know" basis.
Don't destroy or throw away any documents that are in any way related to the complaint.
Consider if a motion to dismiss may be an appropriate response.
If you don't move to dismiss the complaint, work with your attorney to draft the answer and defenses.
Answering the complaint gives you the option of also asserting counterclaims against the plaintiff if you believe you've been wronged.
Consider whether you can serve a third-party complaint as a way of saying, "maybe what the plaintiff says in the complaint is true, but it's not my fault - it's theirs!"
Discuss the possibility of a settlement with your attorney as an option at the onset of the case.
Stay in touch with your attorney throughout the process so you stay aware of all the facts.
Each newsletter features the perspective of one of our members. I encourage you to reach out to offer networking, investment interest, or expertise.
This month's featured founder is Tommy Johnson, Founder & CEO of MADE. MADE is a mission-driven company that leverages blockchain to protect Black creativity and authenticate commercial use by minting the IP of Black culture. When you look at wealth and assets, it includes a person's image, likeness, creativity, and more. MADE seeks to protect existing assets to enable participation in the commercialization of Black culture.
Utilizing the immutability of blockchain technology is at the core of MADE, and they took part in the Techstars Crypto Boston January 2023 Cohort. If you're a creator of African descent, register your products, whether physical or digital, to get the Black Stamp. Visit https://madewithblackculture.com to learn more.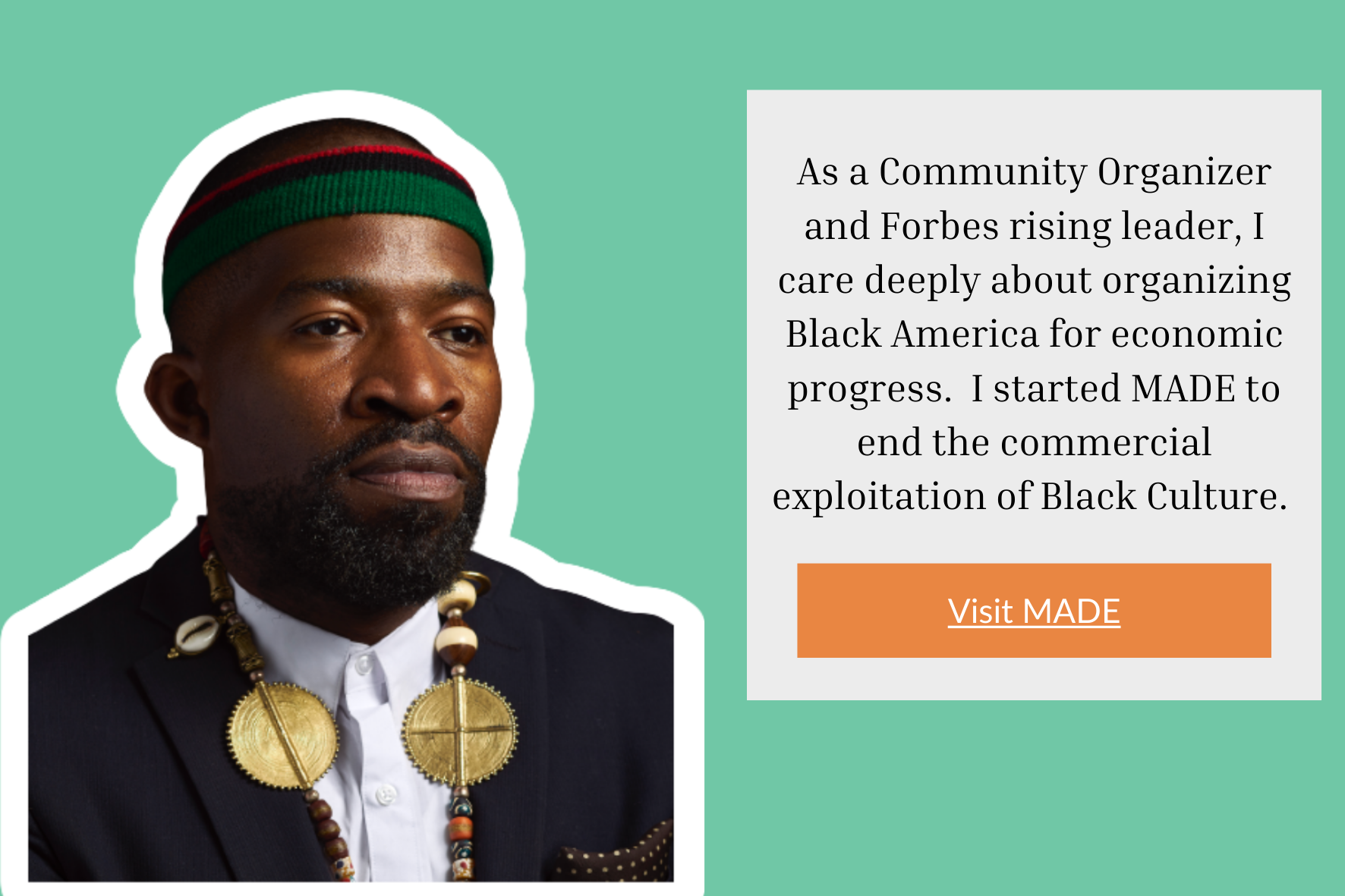 "As a Community Organizer and Forbes rising leader, I care deeply about organizing Black America for economic progress.  I started MADE to end the commercial exploitation of Black Culture. Inspired by the kosher mark, we certify the commercial use of products utilizing Black creativity, likeness or influence. Our journey is supported by Human Rights & Economic Equity advocates."
Do you want to be more Scroobious? Let's chat!
The email was sent to lmacomber+newsletter@scroobious.com. To no longer receive these emails, unsubscribe here. View in browser .
Copyright © 2023 Scroobious, Inc. All rights reserved.