An AI-powered, algorithmic-driven platform connecting diverse founders and investors.

Hi there,
I had already written this month's newsletter, which you can find below, when I learned that my friend Marc Ward passed away suddenly and unexpectedly from a heart attack over the weekend. Marc was an incredibly bright light and those of us lucky to have known him are all in shock and completely devastated. 
Just two days before he took the time to give back to our Scroobious community with an open discussion about how he overcame his self-doubt as an entrepreneur and went on to realize the success and happiness he so very much deserved. 
Please, take just two minutes to watch this video and listen to what Marc wanted to share. You can feel his spirit, warmth, generosity, and intellect. You can watch his full session here where he covers his journey and shares passion and wisdom and humor and inspiration in only the way he can.
Share this widely. Keep his love and his help going. 
I have not one, not two, but THREE big announcements to share with you all this month.
1. I traveled to California to testify as an expert witness for Senate Bill 54.
Click below to watch my testimony, and you can watch the whole bill hearing here. 
This bill will require venture funds to report investment diversity metrics, establishing accurate data collection and public availability. Despite an increase in public rhetoric, eight out of ten investors believe the funding landscape is balanced. Bills requiring data collection have positively impacted areas like board composition and workplace diversity, and this bill has the potential to address inequity in venture capital distribution.
In 2022, $238 billion was allocated (Pitchbook). Just 1.9% went to women, less than 1% to Black founders (Crunchbase), and less than 0.35% to Black women (Crunchbase). I challenge you, as I did the Judiciary Committee, to find another industry or resource in our country with such disparities. You can read more in this LinkedIn post.
2. We opened access to our investor portal! 🎉
The vision for our platform has aways been to meaningfully connect investors with diverse founders whom they might not have otherwise met. We successfully soft launched our investor portal and we've seen investors discover relevant founders in real-time. We're now opening it to all accredited angels! To thank you for being a newsletter subscriber, we would like to offer you an exclusive 6-month free trial.  Click this link and enter promo code INVNEWSLETTER.
Discover new founders and have a dialogue right inside a pitch deck!
3. Meet Pipstant, our new AI Assistant!
Pipstant analyzes a founder's onboarding information, pitch deck, and intro video to help assist with efficient and compelling storytelling. We started with suggestions for a one sentence description, which is a common challenge area, and we've already heard great feedback from founders and investors. Pipstant is working on lots of new ways to help!
FOUNDERS: We have amazing new corporate sponsors. I encourage you to click here and apply for a sponsored account.
Read on for some great upcoming events and opportunities, the Morse Minute, and don't miss our featured founder at the end! Thank you for reading this. Thank you for helping us. I appreciate you. 
Allison Byers, Founder & CEO
Click on an update to learn more and access content.
| | |
| --- | --- |
| | Virtual workshop: Preparing the Pitch, 8/10, 2-3:20 PM ET Join us for the first of our Back to School events for founders. This workshop will teach founders a framework for structuring their narrative that has been vetted by investors and tangible advice for what information to include in each section of an investor pitch. |
| | |
| --- | --- |
| Virtual workshop: Market Sizing, 8/17, 2-3:30 PM ET Calculating a bottom-up market size can be really challenging for founders, but it doesn't have to be! Join us for an interactive workshop that breaks down how to make and communicate market sizing. | |
| | |
| --- | --- |
| | Virtual workshop: Header Statements & Storytelling in Your Pitch Deck, 8/24, 2-3:30 PM ET Join us for a workshop that will teach founders how to effectively utilize header statements and why they are the connecting points of a compelling pitch story. |
Virtual Crap Free Convo: The Reality Behind Early-Stage Exits, 8/29, 2-3 PM ET Join us for our August Crap-Free Convo with Jess Lynch, Founder and CEO of Wishroute, who will candidly discuss her acquisition journey.

 

 
| | |
| --- | --- |
| | In-Person Networking: 3IP is an informal meet up that encourages attendees to invite three interesting people from their network. The next event will be held Thursday, August 3rd from 8:30 - 10:30 am at 125 Summer Street, outside Tatte in Boston, MA.  |
| | |
| --- | --- |
| Event: 10th Annual Female & BIPOC Founders Unleashing the Power of Connections Retreat, Martha's Vineyard/virtual, 8/7-9 I'll be returning as a speaker at this wonderful annual retreat hosted by SaLisa Berrien, founder of COI Energy and COI Ladder Institute.  | |
| | |
| --- | --- |
| | Event: Startup Boston Week, 9/11-15 I'm speaking at Startup Boston Week 2023 on the Startup Curious Track! Join thousands of  startup folks to learn and connect. Grab your free ticket to catch my talk and join the fun!   |
Application due 8/27: Eighteen150 

Unshackled Ventures is accepting applications for its Eighteen150 program giving solo immigrant founders $150,000 or 18 months of runway to make extensive customer discovery, test key hypotheses, and build the founding team within industries like generative AI, defense, energy, and more. 
| | |
| --- | --- |
| | Application due 8/31: She's Connected by AT&T is marking a 3-year milestone of showcasing inspiring women who are paving the way for the next generation and they want to hear your small business story! Become a part of the She's Connected by AT&T community and win $20k for your small business, along with the full support of the She's Connected by AT&T platform.  |
Morse supports diverse founders through their Scroobious corporate sponsorship and their legal professionals create exclusive content for our community to help entrepreneurs.
This month Amanda Thibodeau describes the six top employment considerations for start-ups and emerging companies. Employees are a company's most valuable asset, and adopting compliance standards from the first hired employee can set the stage for a happy, productive workforce who can then help take your great idea to the next level.  Click here for the full article.
Compliance with Wage and Hour Laws
Misclassification of Workers
Anti-Discrimination Law
Offer Letters
NDAs, IP Assignments, and Restrictive Covenants
Policies
Each newsletter features the perspective of one of our members. I encourage you to reach out to offer networking, investment interest, or expertise.
This month's featured founder is Dianne Austin, Co-founder and CEO of Coils to Locs, a direct to hospital and ecommerce distributor of high quality coily, curly hair prosthesis (wigs) for Black women or any woman with highly textured hair.
If someone experiences chemotherapy related hair loss, they are able to purchase a wig at cancer centers and medica hair loss salons covered by health insurance. However, if you're a Black woman, there aren't any coily, curly wigs to choose from and you're forced to spend out of pocket at retail stores, creating a large and costly healthcare disparity.
Dianne and her sister, Pamela Shaddock, who is her co-founder and COO, have brought passionate voices and a high-potential business to the public stage. You may have caught them on The Jennifer Hudson Show, The Today Show, Forbes, or other premier media outlets.
If you're an investor on our platform, go there now to check out her pitch!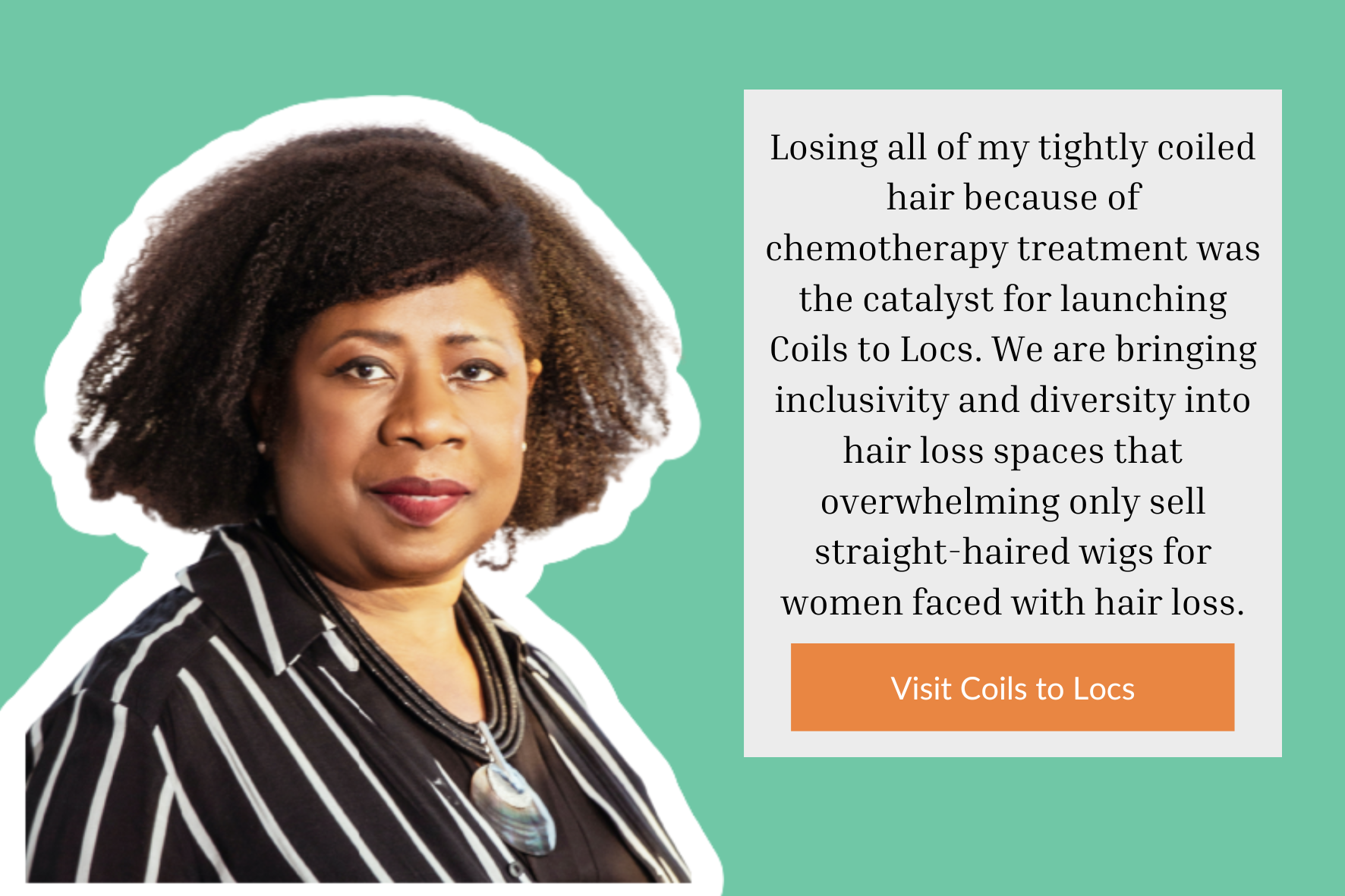 "Losing all of my tightly coiled hair because of chemotherapy treatment due to a breast cancer diagnosis was the catalyst for launching Coils to Locs, a B2B and D2C business elevating coils and curls with culture through our line of beautiful high quality coily curly wigs for Black women or any women with highly textured hair living with medical or non-medical hair loss.

We are disrupting a disparity and bringing inclusivity and diversity into hair loss spaces that overwhelming only sell straight-haired wigs for women faced with hair loss. Our wigs are now in 16 hospitals and medical hair loss salons across the country and we've launched an ecommerce site to serve the interests of women living with all forms of hair loss who crave culturally sensitive alternatives to what is currently available in these spaces.

Our entrepreneurial journey and our focus on meeting a need that has not been
addressed has been highlighted on The Jennifer Hudson Show, The Today Show, Forbes, Elle and People among other media outlets."
Do you want to be more Scroobious? Let's chat!
The email was sent to lmacomber+newsletter@scroobious.com. To no longer receive these emails, unsubscribe here. View in browser .
Copyright © 2023 Scroobious, Inc. All rights reserved.