An AI-powered, algorithmic-driven platform connecting diverse founders and investors.

Hi there,
In last month's newsletter, I shared the exciting news that we soft-launched our investor portal to help early-stage investors discover the hundreds of diverse founders in our community. We have been slowly inviting and onboarding folks from our waitlist of 100+ and it has honestly been an incredible experience. We'll be ramping up the pace in the coming weeks as we're already seeing investor-founder connections happening on the platform.
This newsletter distribution is nearing 1,800 people, so I can't claim to know you all anymore or assume that you know me. I am a mission-driven founder, and Scroobious is a social enterprise working to make a demonstrable difference in improving the flow of capital to underrepresented founders. In 2022, women received just 1.9% of VC dollars, and only 1.1% went to Black founders. 
I spend a lot of time and energy speaking about these statistics to bring them to the forefront of conversations, but I don't often address the data collection aspect underlying them. Reports of VC capital distribution nearly always originate with Pitchbook or Crunchbase data, both of which rely on industry partners and news sources since it is not required that funds disclose diversity metrics for their portfolios. 
Thanks to one of our own incredible investors, I have been part of a team working on a bill in California, Senate Bill 54 , that takes a step towards rectifying the inequity of venture funding by requiring annual reporting of diversity efforts by certain investment entities and individuals. This transparency will hold the investment community accountable and promote more equitable investment practices. The bill's clear definitions and reporting requirements will ensure that accurate and relevant data is collected and made publicly available.
My colleagues Derek Ali (master sound engineer, three-time Grammy winner, and Founder/CEO of ENGINEEARS) and Divya Reddy (financial professional, venture capitalist, and Co-Founder of Pyrium) gave moving testimony this week, which I encourage you to watch. I will be testifying on July 5th to the Assembly Judiciary Committee with my colleague Marquesa Finch (digital health and blockchain health startups, venture capitalist, CEO & Co-Founder of Pyrium). 
Eight out of ten investors perceive the funding landscape as balanced. What gets measured gets done. It's time to start measuring the metrics we want to change. I'm so proud to both be building a startup that is already increasing funding to diverse founders and now being an advocate in our system of democracy. 
Read on for some great upcoming events and opportunities, the Morse Minute, and don't miss our featured founder at the end! Thank you for reading this. Thank you for helping us. I appreciate you. 
Allison Byers, Founder & CEO
Click on an update to learn more and access content.
| | |
| --- | --- |
| | Virtual workshop: Navigating SBIR Grants, 7/11, 2-3 PM ET Join us for a workshop led by Sandra Hryniewicz, Head of Innovation Management at Inspiralia US, who will help founders navigate the SBIR process. |
| | |
| --- | --- |
| Virtual lunch & learn: Corporate, Tax, and Employment Considerations, 7/13 12-1 PM ET Join us as members from the Morse team facilitate a lunch and learn that covers the different considerations when managing a business. This will include a high level overview of tax, corporate governance, IP and employment considerations. | |
| | |
| --- | --- |
| | Virtual workshop: The First Few Hires: How to Ensure You're Hiring the Right People, 7/18 2-3 PM ET Join us for a workshop led by Will Ash and Gabby Wilson of Objective Paradigm as they discuss how to ensure you're hiring the right first employees and outsourcing the right pieces of your business to them. |
Application: PharmStars 

Pharma-focused Health Accelerator is now accepting applications for its Fall 2023 cohort, focused on "Digital Innovations in Therapeutic Delivery: Supply Chain to the Patient Interface."If you have an innovative solution for Supply Chain Management, Drug Delivery, or Patient-Drug Experience, they want to hear from you! Applications due 7/10. 
| | |
| --- | --- |
| | Grant: The Corporate Counsel for Women of Color will award five $5,000.00 grants to women of color entrepreneurs. Applications due 8/1.  |
| | |
| --- | --- |
| Accelerator: Google for Startups Accelerator launched applications for its 4th Annual Women Founders and Black Founders cohorts. | |
| | |
| --- | --- |
| | Application: The Merck Digital Sciences Studio, a 10-month hands-on accelerator program providing mentorship, coaching, training, support, community, and investment to enable the next generation of innovative technologies for drug discovery and development is accepting applications for their next cohort. Yours truly is an Exec in Residence! Applications due 8/1. |
| | |
| --- | --- |
| Event: 10th Annual Female & BIPOC Founders Unleashing the Power of Connections Retreat, Martha's Vineyard/virtual, 8/7-9 I'll be returning as a speaker at this wonderful annual retreat hosted by SaLisa Berrien, founder of COI Energy and COI Ladder Institute.  | |
Morse supports diverse founders through their Scroobious corporate sponsorship and their legal professionals create exclusive content for our community to help entrepreneurs.
This month Elizabeth Resteghini and Monica Sax outline an overview of key incorporation documents a C-Corporation should consider having in place.  Click here for the full article with descriptions of each of the documents: 
Conduct a name availability search
Certificate of Incorporation
By-Laws
Incorporator's Consent
Initial Consent of Board of Directors
Subscription Agreements and Stock Certificates
Stockholders' Agreement
Confidentiality and Intellectual Property Assignment Agreement
Form SS-4 or Online EIN Application
Foreign Qualification  
Each newsletter features the perspective of one of our members. I encourage you to reach out to offer networking, investment interest, or expertise.
This month's featured founder is Stanley Rameau, founder of Renavest. Stanley is an exceptional person and entrepreneur that I am so fortunate to have gotten to know as peers in the Boston ecosystem.  He launched Renavest, a marketplace for chat communities, focused on financial literacy, investing and building businesses, in 2022 and has a groundswell of support. 
Renavest is hosting a 200 person sold out beta download launch event this week! We're so proud to be part of his journey alongside MassChallenge, the Black Economic Council of Massachusetts, Inc., and Visible Hands.
If you're an investor on our platform, go there now to check out his pitch!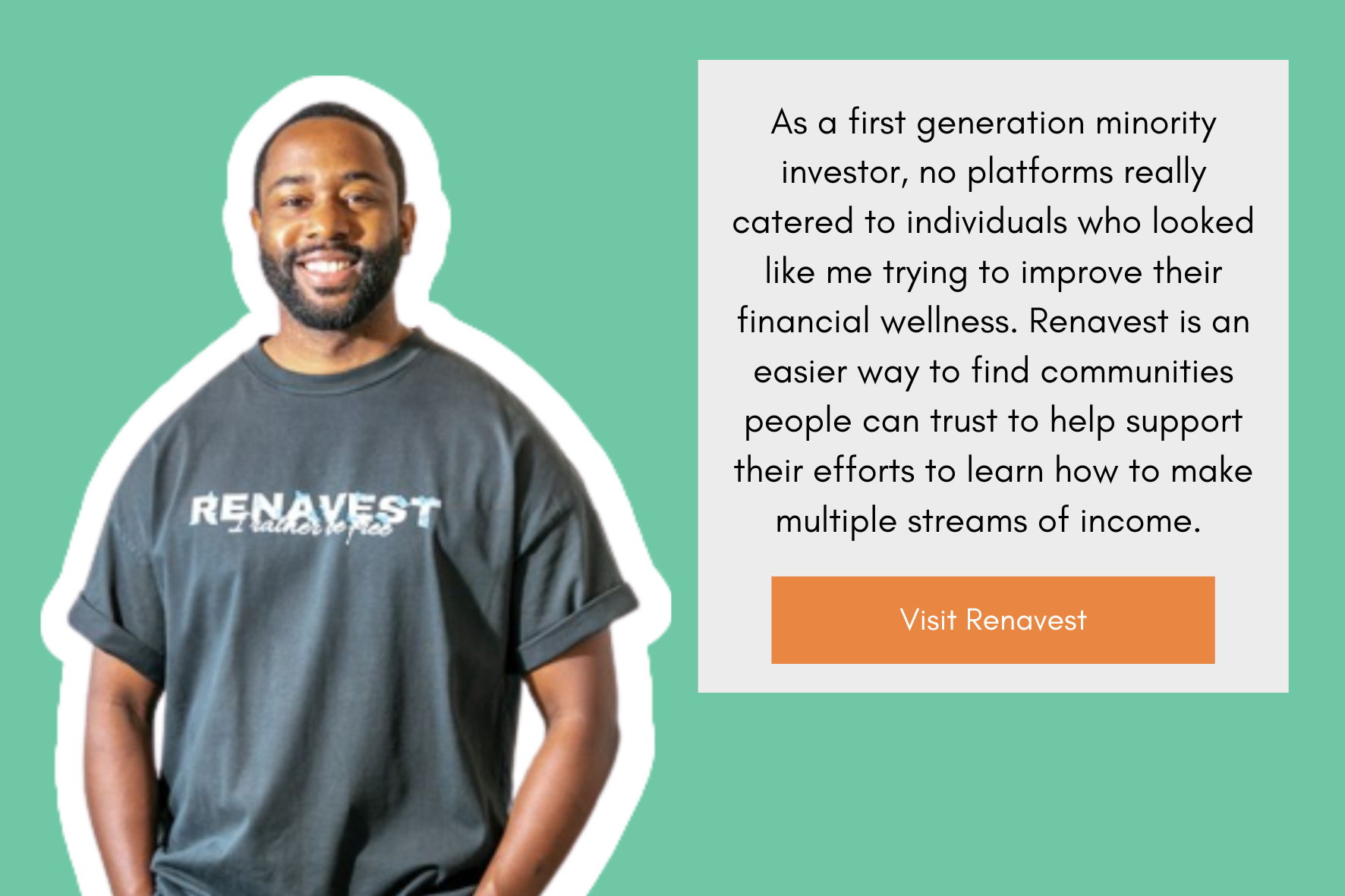 "As a first generation minority investor, I found myself in multiple group chats. It became difficult to navigate conversations on different platforms and realized that none of them really catered to someone trying to improve their financial wellness. Despite my efforts to improve my financial literacy and become a better investor, I discovered that individuals who looked like me were not even aware that there were communities you could learn from. 

As I started talking to potential users, they expressed the need to have an easier way to find communities they could trust to help support their efforts to learn how to make multiple streams of income. 

These conversations propelled me to create Renavest."
Do you want to be more Scroobious? Let's chat!
The email was sent to lmacomber+newsletter@scroobious.com. To no longer receive these emails, unsubscribe here. View in browser .
Copyright © 2023 Scroobious, Inc. All rights reserved.