Teaching diverse founders how to create investable pitch material through a scalable online platform and making it easy for investors to discover them through data-driven curation. 

Hi there,
To say this has been a difficult month in startup-land would be an understatement. We have all been challenged in different ways by the sudden closure of SVB, but for underrepresented founders and emerging fund managers, this cut deep both financially and emotionally. We feel the loss of community and support for diversity, equity, and inclusion that SVB provided.
In times of challenge, it is more important than ever for the ecosystem to collaboratively support each other. The data speaks for itself. According to Pitchbook's VC Female Founders Dashboard, VC funding to women has fallen off a cliff in recent quarters, eliminating any progress made. On this last day of Women's History Month, I can't stop thinking about how in my home state of Massachusetts that deploys the third highest amount of VC dollars, only 0.9% of them go to women (Boston Business Journal). By the way, that's what it is for all of Europe.
The drop in funding to women and minorities is at an emergency level, and we all need to step up now. 
Scroobious has helped over 400 founders increase their odds of getting into accelerators, expanding their networks, and obtaining capital. We have granted more than 150 free Scroobious memberships to overlooked founders courtesy of our corporate sponsor and accelerator partners. 
I am THRILLED to share that AAA Northeast is our newest sponsor partner. Bigger announcements are to come about this soon, but I wanted all of you to be the first to know. AAA's enthusiasm for supporting and catalyzing entrepreneurship is inspiring and we at Scroobious cannot wait to bring our platform to more overlooked founders through our partnership.
If you work with startup founders or DEI efforts, this is a triple win.
Founders get sponsored (free) membership to access our education, guidance, resources, and community increasing their odds of raising capital.
Sponsors intentionally build pipelines, support their clients, gain positive PR, become a trusted resource by diverse founders, and address DEI initiatives.
Scroobious, a woman-founded startup, continues to fulfill our mission of making our platform available and affordable to everyone who needs it and re-architecting the private capital ecosystem for early stage ventures.
I encourage you to reach out for a conversation about how we can partner. Together, we can make a measurable difference, do good, and have fun along the way! No, seriously, it's a fun time.
Read on for upcoming events and opportunities, the Morse Minute, and don't miss our featured founder at the end! Thank you for reading this. Thank you for helping us. I appreciate you.
Allison Byers, Founder & CEO
Click on an update to learn more and access content.
| | |
| --- | --- |
| | Virtual workshop: Mastering Influence , 4/13, 2-3:30 PM ET Join us for a workshop that teaches a framework for building influence, especially in the most challenging business conversations. Apply these learnings to a real conversation context and walk away with actionable advice for influencing your most important (and most difficult) stakeholders. |
| | |
| --- | --- |
| Virtual workshop: Unleash Mental Edge Without Burnout, 4/18 2-3 PM ET Emily Leahy, CEO of Founder in Flow, will discuss how to end the habitual hustle and start operating from a new level that leaves people wondering how you stay so grounded and focused. | |
| | |
| --- | --- |
| | Virtual event: Return of the Overlooked Founder, 4/4 11:45-6 PM ET  A reverse pitch event to connect overlooked founders to alternative capital & level up their fundraising skills. Kabila will pay for founder mental therapy for 20 attendees. There will be helpful goodies in the virtual swag bag for the first 100 registrants. Yours truly is on at 5 pm ET. |
| | |
| --- | --- |
| Virtual event: The Future of Foundership: A CEOs and Founders Q&A Panel, 4/6 6-8 PM ET Join me at Startups for All's two-part Q&A featuring stories/real talk from a diverse mix of CEOs & founders who care about community and lead with purpose. | |
| | |
| --- | --- |
| | Virtual event: TCN Demo Day, 4/11 1-3 PM ET We're partnering with The Capital Network for a Demo Day that enables investors to gain a deeper understanding of both the business and the founder so they can create strong connections. If you're an accredited investor who is committed to investing in women entrepreneurs, find out more & request an invite |
| | |
| --- | --- |
| Podcast replay: Sage Revell, a partner in Brown Rudnick's London office, interviewed me about how we work to create opportunities to connect investors with startups and the importance of helping underrepresented groups of people succeed in new ways. | |
| | |
| --- | --- |
| | In-person event: All Raise Agents of Change, 5/17 9-12:30 PM ET Our half day summit is back! Gather with female, non-binary, and underrepresented founders as well as allies in a friendly environment for moderated discussions about getting money, getting overwhelmed, and getting help. |
| | |
| --- | --- |
| New PiP Content! We're always adding new guidance for founders in PiP.  New video modules are about Demo days vs. meetings and how to prepare for a range of different pitch lengths based on context, goals, and time. Members can check them out in their accounts now! | |
| | |
| --- | --- |
| | Application: Visible Hands VHBOS is accepting applications for their 10-week fellowship for Boston-based founders in partnership with the Barr Foundation. The program will provide $10K in non-dilutive funding & hands-on workshops to 20 Boston founders . Applications due 4/7.  More information here. |
| | |
| --- | --- |
| Application: The Visa Everywhere Initiative will be hosting three startup competitions focused on uplifting and supporting underrepresented communities across the country. These groups include Black, Women, and LGBTQ+. The special edition competitions are reserved for candidates whose startups/Fintechs are led by a minority founder/co-founder. Applications due 4/17  | |
Morse supports diverse founders through their Scroobious corporate sponsorship and their legal professionals create exclusive content for our community to help entrepreneurs.
This month Rebecca Alperin discusses how to win the war for talent with insights for early-stage companies. Click here for the full article. Quick highlights below, but I strongly encourage you to read the full article as it has much more information including tables with plan specifics.
Be employee centric: successful employers are not afraid to ask questions that elicit responses to what they could offer to better meet the employee's expectations and needs and are dynamic in implementing benefits change.
Encourage Employees to be Far-Sighted: at a time when the allocation of company resources must first be used to meet pressing business needs, deferred compensation arrangements offer a solution. Consider how pay for performance or equity awards may be enticing offers.
Take a Seat at the Big Kids' Table: early-stage companies have at their disposal qualified plans for small employers that mirror the qualified plans adopted by their large company counterparts. Consider Individual Coverage or Qualified Small Employer Health Reimbursement Arrangements, The Small Business Health Options Program, and SIMPLE 401(k)/SIMPLE IRA/SEP IRA. (Details on each in the full article)
Harvest Low Hanging Fruit: many benefits can be offered with little or no additional cash expense like flexibility, training and professional development, covering expenses before taxes, and encouraging peer recognition.
When You're on the Way Out, Recognize Those with You on the Way Up: transaction bonus plans and carve out plans can be used so that specified employees benefit from the increased value of the business upon change of control.
Each newsletter features the perspective of one of our members. I encourage you to reach out to offer networking, investment interest, or expertise.
This month's featured founder is Anj Fayemi, Co-founder & CEO of Rivet. I am so lucky to have met Anj last year. His enthusiasm and passion for what his team is building are infectious and you can't help but be happier when you're around him.
Rivet is an AI-powered CRM platform that helps creators better engage with their fan communities. He started developing Rivet with his co-founders while studying Chemical Engineering at MIT and while actively recording and performing music. They recently raised a pre-seed round with participation from Drive Capital, Visible Hands, Techstars, Hustle Fund, and aligned angels. You can read more about their journey in Culture Custodian, and Boston Business Journal.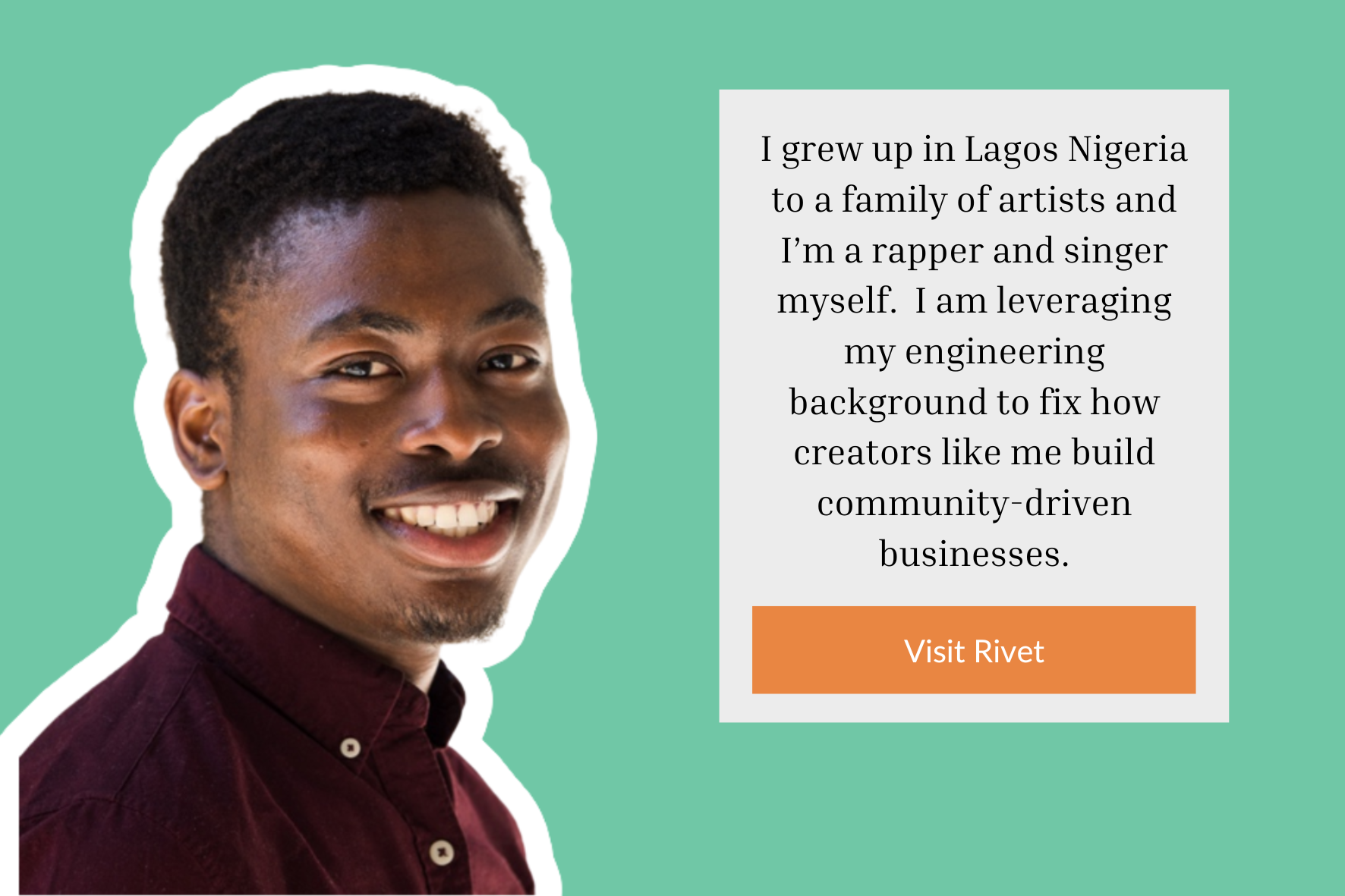 "I grew up in Lagos Nigeria to a family of artists and I'm a rapper and singer myself. While releasing my second album, I got frustrated that I wasn't able to use information I had on who had seen my show, bought something, or engaged with me in some way in the past for my new releases going forward. This led me to pause creating and leverage my engineering background to fix the way creators like me build their community-driven businesses."
Do you want to be more Scroobious? Let's chat!
The email was sent to lmacomber+newsletter@scroobious.com. To no longer receive these emails, unsubscribe here. View in browser .
Copyright © 2023 Scroobious, Inc. All rights reserved.