Teaching diverse founders how to create investable pitch material through a scalable online platform and making it easy for investors to discover them through data-driven curation. 

Hi there,
We work with dozens of university programs at Scroobious. While chatting with an entrepreneurship professor earlier this week, I found myself wishing I had taken some entrepreneurship courses while I was at business school. Entrepreneurship wasn't explicitly taught back then (16 yrs ago OMG 😱), and it wasn't even on my radar at the time. 
According to a 2019 Report from the Kauffman Panel on Entrepreneurship Curriculum in Higher Education, there were ~250 entrepreneurship courses offered across all college campuses in the United States in 1985, and today there are more than 5,000. Entrepreneurship education is also now widely accessible outside of universities, with 8,000 business accelerators worldwide, more than half of which were founded between 2014-2020.
There has been a monumental change in how newer generations think about their careers. I believe the increase in entrepreneurial education is both a lagging and a leading indicator. There has been a dramatic shift in the perception of one's occupation in terms of "employment" to that of fulfilling work and societal contribution. Carving your own way and non-linear career paths are today's normal. The way our institutions guide students has evolved accordingly and will influence those entering the workforce for generations to come.
Anyone can now envision themselves as a startup founder. Anyone can also access education, community, and technology to enable this career exploration. However, one critical element is still inaccessible to large swaths of the population. Can you guess what that is? Correct - it's funding. In Q1 '23 Black founders raised just 0.69% of VC funding (75% YoY decline), and female founders raised just 2.1% (53% YoY decline).
The encouraging news is that along with the shift in who considers entrepreneurship an option, so too are we seeing an increase in who considers themselves as investors. As TechCrunch reports, angel investors are increasingly everywhere, and they are motivated by factors other than just financial gain. Angels invested more than $25B in the US, which is an undercount since many private investments aren't visible. 
At Scroobious, we are addressing both market dynamics. We are providing accessible and affordable pitch education and guidance to help founders present their opportunities as "investable". On the other side, we're enabling angel investors to efficiently access high-quality deal flow through personalized curation without needing to slowly build a big network.
Now, drum roll please 🥁 🥁We will begin inviting investors to test out our discovery platform on June 1! Want an invite? Click here to join over 100 early stage investors on our waitlist.
Read on for some great upcoming events and opportunities, the Morse Minute, and don't miss our featured founder at the end! Thank you for reading this. Thank you for helping us. I appreciate you.
Allison Byers, Founder & CEO
Click on an update to learn more and access content.
| | |
| --- | --- |
| | Virtual workshop: Don't Give Up Too Soon in Sales , 5/3, 12-1 PM ET Entrepreneurs and business professionals believe things about selling that keep them from achieving their business dreams. Our workshop guest, Catherine Brown, provides actionable, practical steps that equip professionals to embrace a positive mindset about sales while driving outstanding results. |
| | |
| --- | --- |
| Virtual workshop: Breaking Down the Investor Memo, 5/17 2-3 PM ET The "Investor Memo" is the document that often determines whether an investor decides to write you a check, but very few founders know much about it let alone utilize its composition to recruit investors. This session will both demystify the memo's uses and its format and give you the tools to help you write your own.  | |
| | |
| --- | --- |
| | Virtual lunch & learn: Copyright vs. Trademark, 5/23 12-1 PM ET  Many businesses have trademarks and copyrights, but founders don't always understand which is which and how to protect and properly use these important assets. |
In-person event: All Raise Agents of Change Summit, 5/17 9-12:30 PM ET 

We want to see you at our 2nd Annual Agents of Change on May 17th at Northeastern University where female and non binary founders can network and learn from some of Boston's biggest mentors and influencers.

This one is a don't-miss event!
| | |
| --- | --- |
| | Application: Black Ambition Prize This program provides a platform for Black, Hispanic and HBCU-affiliated founders across the nation to access growth capital, pitch feedback, and mentorship. Eligible applicants consist of Black and Hispanic innovators building early-stage ventures across five distinct categories. Applications due 5/8. |
| | |
| --- | --- |
| Application: Render Capital Render Capital's Competition invests $100,000 into 8 companies each year, encouraging their growth within and beyond their region. Winners are required to locate within the Greater Louisville region and their team and network of partners will provide tailored support. Applications due 5/14. | |
| | |
| --- | --- |
| | Application: Zane Access Financial Readiness Cohort Open to Atlanta-based underrepresented founders, cohort 4 will be a 3.5-day intensive course for 15 founders providing them with networks and mentors to help them champion their story and use their own powerful, unique voice and brand to raise venture capital. Online from May 22-25, 2023 and with an in-person graduation luncheon on Thursday, June 1. |
Morse supports diverse founders through their Scroobious corporate sponsorship and their legal professionals create exclusive content for our community to help entrepreneurs.
This month Mary Beth Kerrigan and Monica Sax discuss the consequences of
accepting venture capital financing from the perspective of equity dilution and review the dilutive effective of multiple rounds of venture capital financing under various scenarios. Click here for the full article. Quick highlights below, but I definitely recommend reading the full article as it has much more information including tables with payout breakdowns.
Founders who pursue venture capital financing need to understand the dilutive effect of multiple rounds under various scenarios.
A lower than anticipated pre-money valuation can be challenging for founders as it can be difficult to look long-term and appreciate the benefit of owning a small percentage of a very successful company as opposed to a large percentage of an unsuccessful company.
Be sure to factor in ~20% stock option pool at Seed stage, which dilutes founder equity.
Most equity distribution calculations assume a fully-diluted basis, so be aware of your vesting schedule.
Terms such as anti-dilution protection, liquidation preferences, participating preferred stock, and rights to dividends can majorly impact capital allocation upon exit.
Having a participating preferred stock feature will in most instances provide more cash to the investors upon a sale of the company and reduce the amounts to be paid to the founders. 
Each newsletter features the perspective of one of our members. I encourage you to reach out to offer networking, investment interest, or expertise.
This month's featured founder is Sesha Kadakia, Founder & CEO of Tangify, which makes it easy to determine if an idea can be patented and helps rapidly generate first drafts of provisional patent applications. Using Tangify innovators are able to pre-screen their invention without sharing confidential information, define their invention in a way that meets patenting standards, run an initial patent search to identify other similar inventions, precisely identify their differentiators using the search results, and generate the draft.

Having been through a lengthy patent exploration process before, Tangify is an incredible value proposition and removes many barriers innovators face when staring down this expensive journey.  As with so many founders in our community, Sesha has also experienced gender bias in her career and in fundraising. I encourage you to read her insightful commentary about how women entrepreneurs do more with less in this article.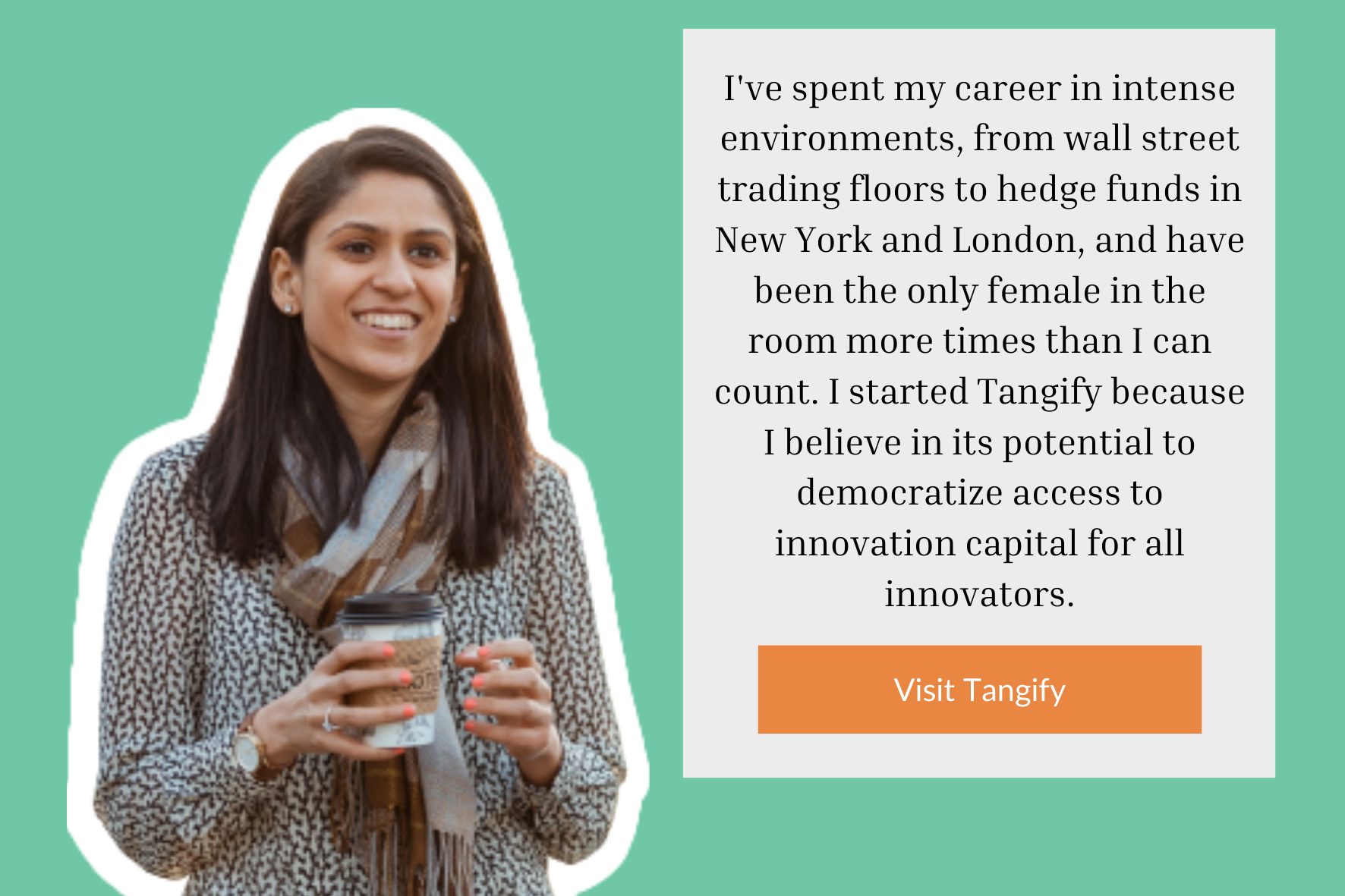 "I've spent my career in intense environments, from wall street trading floors to hedge funds in New York and London, and have been the only female in the room more times than I can count. I started Tangify because I believe in its potential to democratize access to innovation capital for all innovators regardless of background, economic status, university affiliation, or network. Tangify helps startups rapidly generate first drafts of provisional patent applications.
Patents matter because they have real consequences for venture creation. They help founders: Raise more money (+45% at angel), attain higher valuations (+93% at angel), drive more value at exit (79% of total exit value), attain higher valuations at exit (+155% vs. non-patent), and increase the likelihood of an IPO exit (5x over non-patent).
It's hard enough for women and underrepresented groups to access capital as it is. We're removing roadblocks one step at a time."
Do you want to be more Scroobious? Let's chat!
The email was sent to lmacomber+newsletter@scroobious.com. To no longer receive these emails, unsubscribe here. View in browser .
Copyright © 2023 Scroobious, Inc. All rights reserved.